How to Buy a House in Edmonton
Posted by Jenn McPhillamey on Tuesday, September 7, 2021 at 10:31 AM
By Jenn McPhillamey / September 7, 2021
Comment

Are you considering homeownership but have no idea where to start? You need to ask yourself some key questions to determine if it's even an option for you. I will provide you with those key questions and the step-by-step process to buy a house in Edmonton.
Part 1: Determine if you are financially ready to buy a house.
Some people may advise you to first decided if you want the responsibility of homeownership. In my opinion, I think that is a secondary question. First, you need to determine if you are financially ready to buy a home. This is an essential first step because it can sometimes take a year or more to be financially prepared to buy a home. Without the ability to buy a home, it really doesn't matter if you want to be a homeowner or not. You first need to be financially ready to buy a home before deciding if it's right for you.
The following items are the basic things you would need to before you speak to a mortgage broker to determine if you would qualify for a mortgage:
1. A job for at least 3 months (unless you are self-employed, you may need two years history)
2. Minimum credit score of 650
3. Minimum downpayment of 5% + closing costs
If you don't have those things, those are the first things you need to work on before proceeding to the next part of determining your financial readiness for homeownership.
How to best achieve those essential three items above.
1. Get a job with consistent steady work with guaranteed hours or salary. The best job type for mortgage approvals is stable employee positions with regular hours where you aren't relying on overtime or tips to pay your bills.
2. When building or correcting your credit score, never miss a payment. Whether you have a credit score of less than 650 or no credit, one way you can improve this is to never miss a payment and keep using your credit. For example, I use my credit card for all my day-to-day spending within my budget and set up my credit card to auto-pay every month. This way, I am never late with the payment. You have to make sure you are only spending within your budget, or you will carry a balance on your credit card. Sometimes people think getting rid of their credit cards will help them improve their scores because they won't be using them so they won't overspend and won't miss a payment. Be warned! Getting rid of credit cards will not help you, it will actually hurt your credit. scores. You need to have credit that you use responsibly to have a good credit score.
3. Save for a downpayment by putting aside a set amount from each paycheque into a savings account. Determining how much of a downpayment you need can be tricky, especially if you don't know how much you would be approved for. Start with the price of the home you hope to be approved for and go from there. If you are hoping to be approved for a $400,000 home, your minimum downpayment of 5% would be $20,000. You should budget $4000 for closing costs. Closing costs include lawyer fees and condo doc review (if applicable), property inspection, and lawyer fees. The total amount that would need to save is $24,000. There are several ways you can come up with this, such as getting a gift from family, from your savings, or borrowing from your RRSPs (specific rules apply to this, so you would need to check with the lender).
Once you have those three things, you are almost ready to speak to a mortgage broker. A mortgage broker will need to calculate your debt ratio. So, you will be required to provide all your debts and monthly payment obligations. There is no point in trying to hide anything, as they will find out now or later. Don't worry about having too much debt. If you do, your lender will advise how much debt you need to pay off before you qualify for a mortgage.
One of the most important things to realize about determining if you are financially ready isn't really a pass or fail. Not being financially prepared is just a status for your current situation. With focus and determination, you can do so many things to get to the point of being financially ready.
Part 2: Determine if you are ready for the responsibility of Home Ownership.
Unlike renting, homeownership comes with additional responsibilities that you may not have considered. It is more than just paying your mortgage. Additional homeownership responsibilities include:
1. Paying your property taxes.
2. Monthly utilities
3. Maintenance & Repairs
4. Special Assessments/Levies for Condo Owners
If you are financially prepared and think you can handle the additional responsibility of homeownership, you are ready to take your first step in the home buying process.
Steps for Buying a Home in Edmonton
The following graphic details the step-by-step process of buying a home in Edmonton.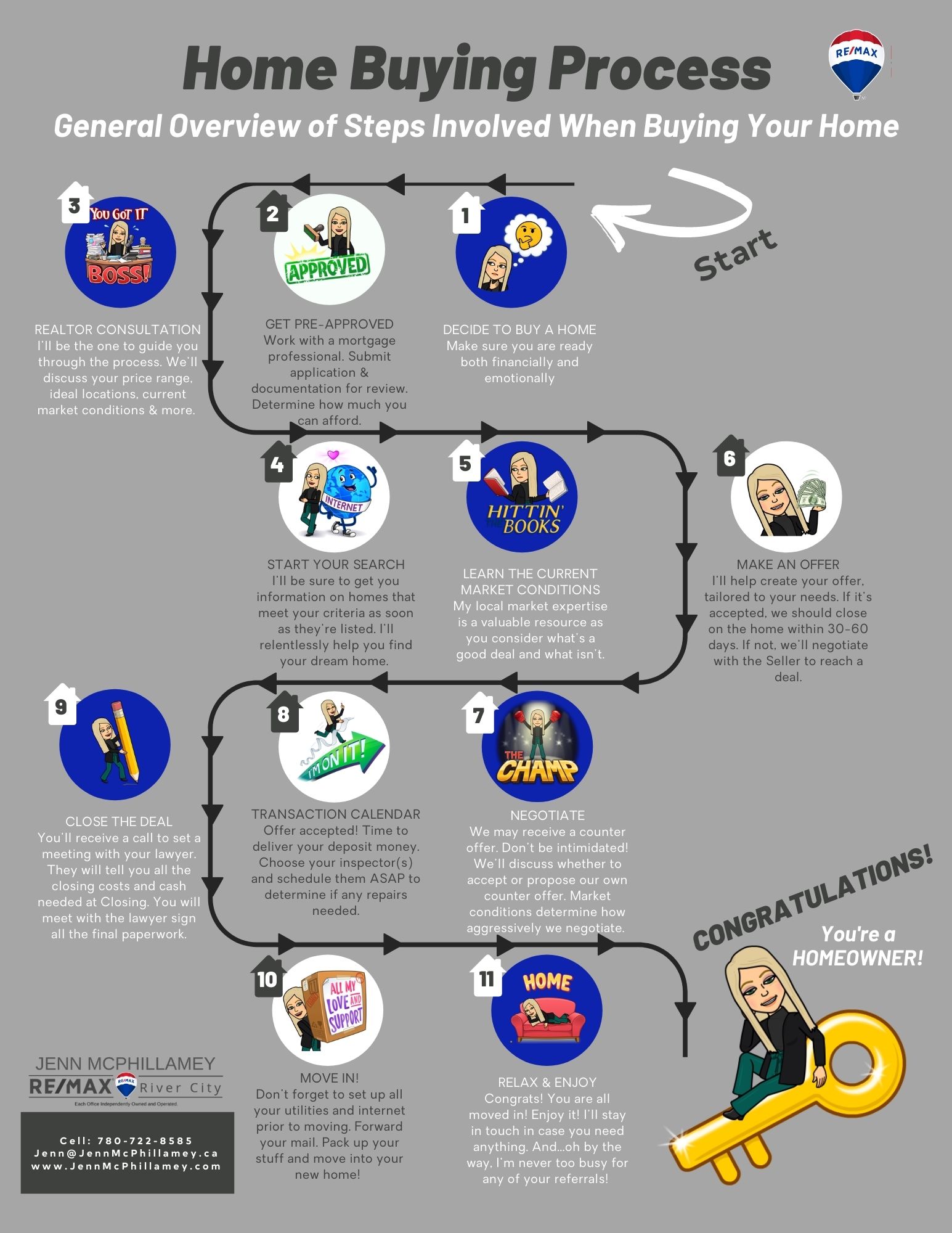 These steps are:
1. Decide to buy a home
2. Get pre-approved with a mortgage broker/specialist.
3. Book your Realtor consultation with me.
4. Start your search
5. Learn the current market conditions (don't worry, you don't have to be the expert. That's what you have me for. Knowing the market conditions will help you with your expectations)
6. Make an offer
7. Negotiate
8. Complete your due diligence (final financing approval, home inspection, etc.)
9. Sign the final land title and mortgage documents with the lawyer
10. book your utility and internet set up
11. Move-in
12. Relax and enjoy your new home!
The home buying process is not as easy as it looks and can be pretty stressful for buyers. I am here for you every step of the way to make the process as easy and as stress-free as possible. I am happy to answer any additional questions or connect you with the right mortgage broker/specialist.