Why You Should Not Move To Edmonton
Posted by Jenn McPhillamey on Saturday, October 30, 2021 at 1:12 PM
By Jenn McPhillamey / October 30, 2021
Comment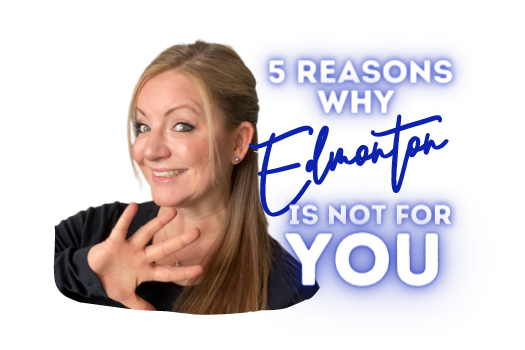 Moving to a new city is never an easy decision. If you are like most people moving here, you are looking for an opportunity to live somewhere affordable so you can enjoy life more. But what if Edmonton is not the right place for you?
The top 5 reasons why Edmonton Why You Should Not Move to Edmonton
1. You don't like cold and long winters. Winter in Edmonton is between late October and late March. The temperature -10 degrees celsius to -14 degrees celsius averages between November to February. We do get cold snaps during these months where you will see the temperature dip below -30 degrees celsius and with the wind chill, it can feel colder than -40 degrees. It may seem unmanageable but surprisingly life goes on and every year we make it to spring.
2. You like hot Summers. Summers are not really that hot. Once you get climatized to the weather here they may feel hot but compared to other parts of the world they are not hot. Summer in Edmonton is a short 3 months (June, July, and August). The high-temperature ranges from 23 degrees Celsius to 30 degrees celsius. In the last couple of years, we have actually reached temperatures between 38 degrees Celcius and 40 degrees celsius for a week or two.
3. You enjoy quick access to a lake. Right in the city of Edmonton, there is only one lake community, the community of Summerside. To access this lake, you have to be a resident of the community or a guest of a resident. The neighboring city, St. Albert, has a new community called Jensen Lakes and it will be just like Summerside. As of 2021, the lake at Jensen Lakes is still not operational. There are many lakes in Alberta and surrounding Edmonton if you have a car and can drive to them. However, I would check to see if the lake you are going to is swimmable as many lakes in Alberta are not, unless you don't mind swimmers itch or leaches.

4. You enjoy a humid climate. Edmonton is almost as dry a desert. So you enjoy a humid climate do not move to Edmonton. Summers are not too bad but winter is very dry. People with skin conditions will suffer more than those who don't have any skin conditions.

5. You want to live close to the mountains. This question is relative to what you think is close. If you think a 4-hour drive is close then I stand corrected. The rocky mountains are accessible by car and bus from Edmonton but just be prepared for a long drive. This is one advantage Calgary has over Edmonton, Calgary is only a 1-hour drive to the mountains.
If these things do not deter you from wanting to move to Edmonton, it's time to start your home search. Find out now how affordable Edmonton is compared to the rest of Canada - Search for Homes in Edmonton.